13 Top Rated Beaches in Bali
13 Top Rated Beaches in Bali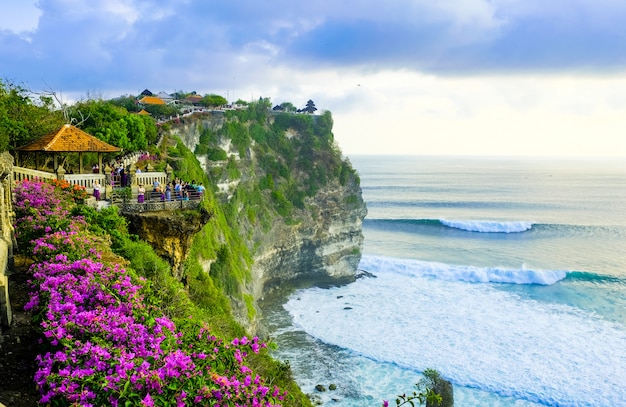 Bali is the most picturesque island in the archipelago of Indonesia. A trip to Bali has the top on the bucket list. Its natural captivities and stunning scenery make people fall in love with head over hills. Bali has so much to offer. You can go from treks in the lush, enjoy sandy shores, wander among the monkey-laden forests or climb atop the volcanic mountains. Bali offers a perfect vacation to all its visitors.
The island's primeval beaches, stunning coastline, and crystal azure water are nothing but kinds of stuff from dreams. Quiet black beaches are hidden by towering cliffs to the popular white sandy beaches on the south, you would never get bored from the shore. Bali is the sanctuary of water sports. It attracts coast divers and surfers from all around the world.
Bali is a famous place for a family vacation, a fun water park, and luxurious beach resorts. Now comes the hard part! There are so many beaches in Bali, choosing the appropriate one will be a difficult task. Don't worry! We have made a list of the best beaches in Bali for more fun and memories. Don't forget some businesses and trades might be closed temporarily due to the global pandemic.
Here is the list of 13 top-rated magnificent beaches in Bali.
1. Amed Beach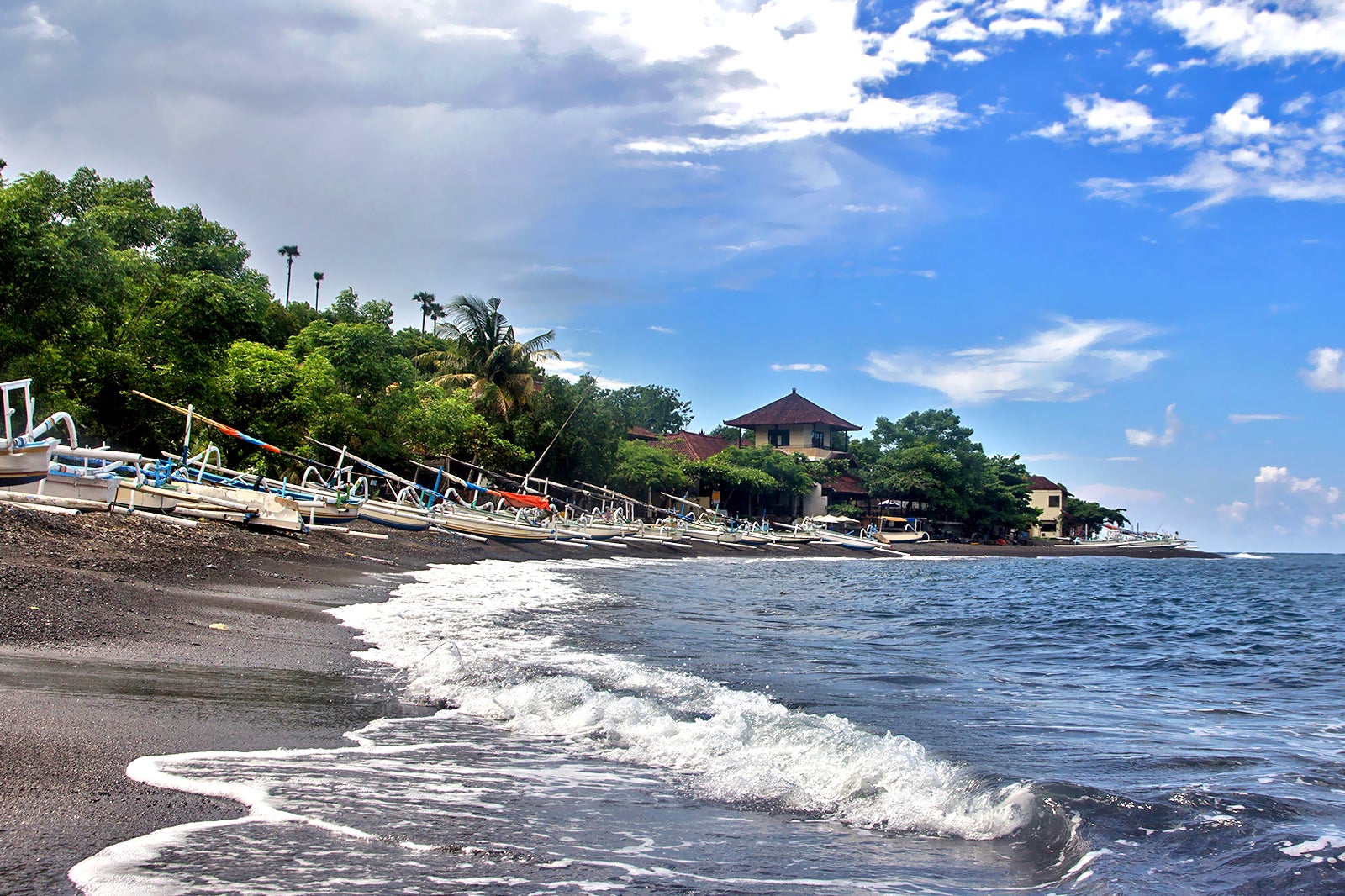 Amed is located on the northeastern coast of Bali. One of the most enchanting features of Amed beach is found beneath the translucent turquoise water. On the ocean floor, a garden of corallines with vibrant colors gives tourists a glimpse of unique ocean life. Due to this thriving aquatic world, snorkeling and diving are the top things to do in this black sand oasis. Historic shipwreck just adds more spice to the mystical beach.
Over to the 15 miles of the north is Tulamben, another perfect hotspot for diving. Don't forget to take your waterproof camera. On the grounds, you will have a sight of active volcanoes spitting fire towards the sky. There will be local jukung fishing boats floating close to the shore in neat rows. There is plenty of lodging nearby to Candidasa, a 40-minute drive to the south. As it is a rocky beach, wear water sandals or shoes.
2. Crystal Bay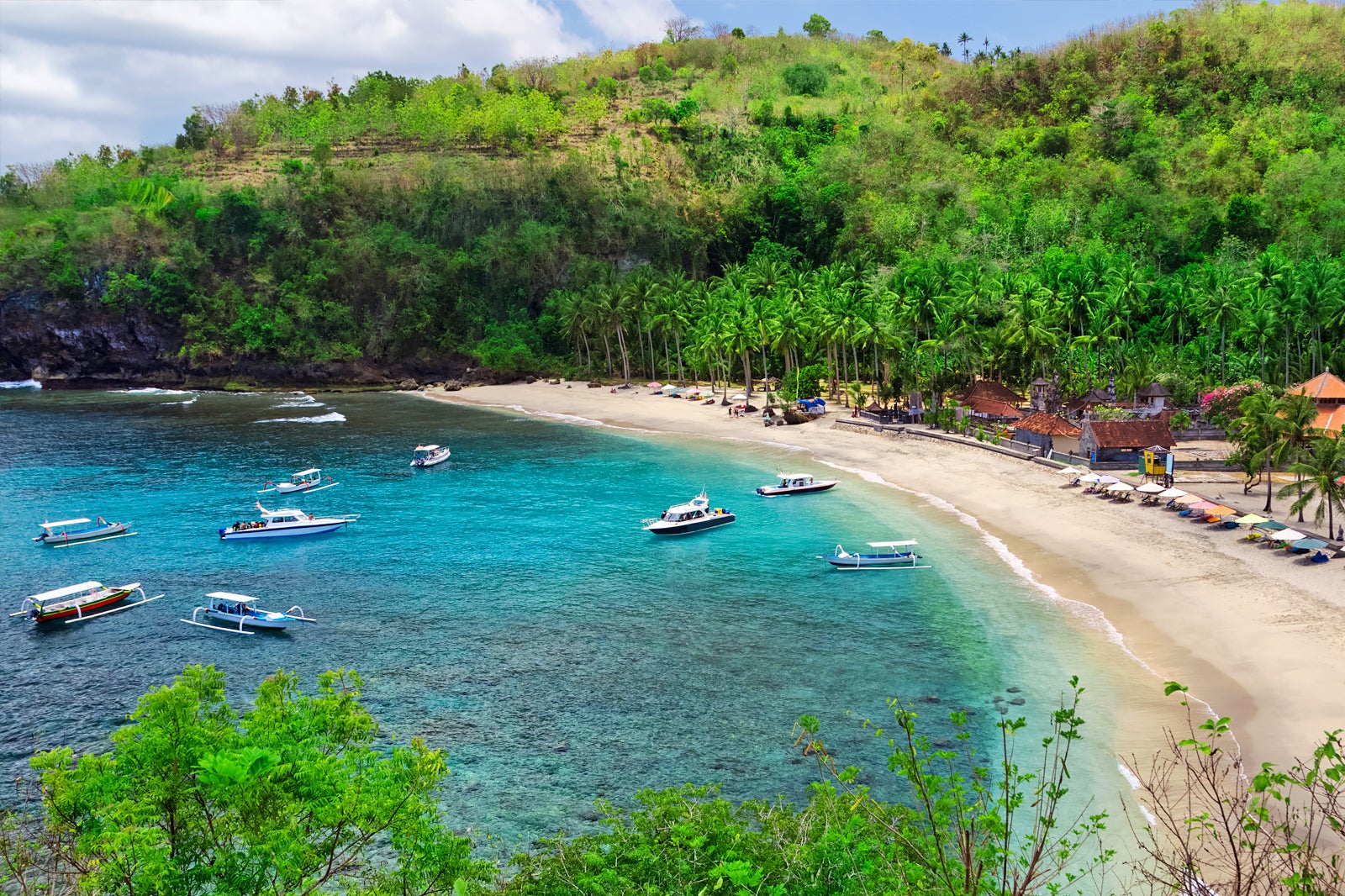 Officially, Crystal Bay is not on Bali, rather this paradise is an hour's speed boat ride away from the mainland. It also depends on where you are on the dock, accordingly, rent a motorbike or car and wander the bay. No doubt it is alluring beautiful with rocketing palm trees, but the road is bumpy.
Crystal Bay is situated in a sheltered cove on the west coast of Nusa Penida island. The bay got its name from the translucent blue and green water. With its thriving reef, it is one of the best places to go for diving and snorkeling. The water current here is quite strong and speed, take note of it.
Despite being underdeveloped, you will find small, thatched-roof buildings and bungalows. You will get everything from cold drinks, coconuts water to snorkel rentals. You can avoid the crowd by visiting earlier in the day. Like many beaches in Bali, Crystal Bal is also a popular place to enjoy the sunset.
3. Jimbaran Bay
Without a trip to Jimbaran bay, your trip to Bali isn't complete. Jimbaran Bay is a silver piece of paradise on the south coast. The soft sand and calm waves, indeed a perfect family vacation. Many sandcastles were built here on this shore. Most people visit Jimbaran bay to watch the sun slowly setting on the horizon. You will get caught by the bay's magical charm. There are many hotels, honeymoon resorts, restaurants on the golden shore.
Dining on the beach is one of the top things to do. It is not hard to find a restaurant with tables on the sand and watching the perfect sunset view. A golden tip for you! Intensify the romance by booking an exclusive romantic table at Bawang Merah Beachfront Restaurant. You can enjoy your meal in the sand drawn petal-infused heart shape on a secluded beach. The seafood is fresh and very delicious.
4. Kuta Beach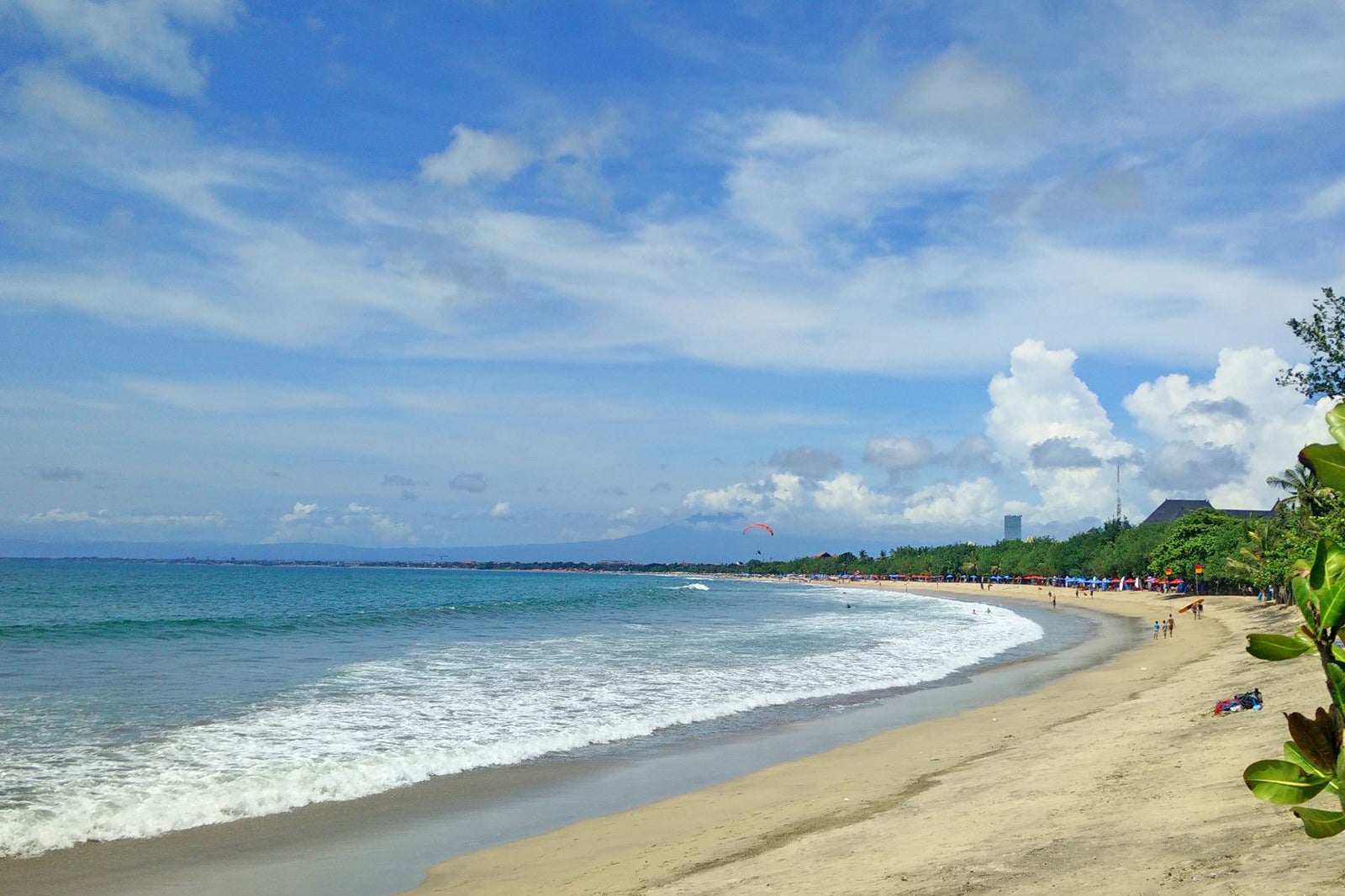 Have been to Miami beach? Then you are ready for Kuta beach. The Kuta beach is situated nearby to the island's main travel hub Ngurah Rai International Airport. The beach has pensive blue waters and golden sand. Being one of the best beaches in Bali, Kuta is quite adventurous. Kuta has emerged out of a small fishing village to a vibrant resort town. There are countless beach resorts, restaurants, and hotels. The nightlife is as colorful and musically as the day.
The beach is the perfect spot for experienced surfers as well as beginners. The popularity reached its peak as there are many surf schools along the sand. Although you have night stay in vacation packages, a more quiet night's sleep looks for more afield.
5. Sanur Beach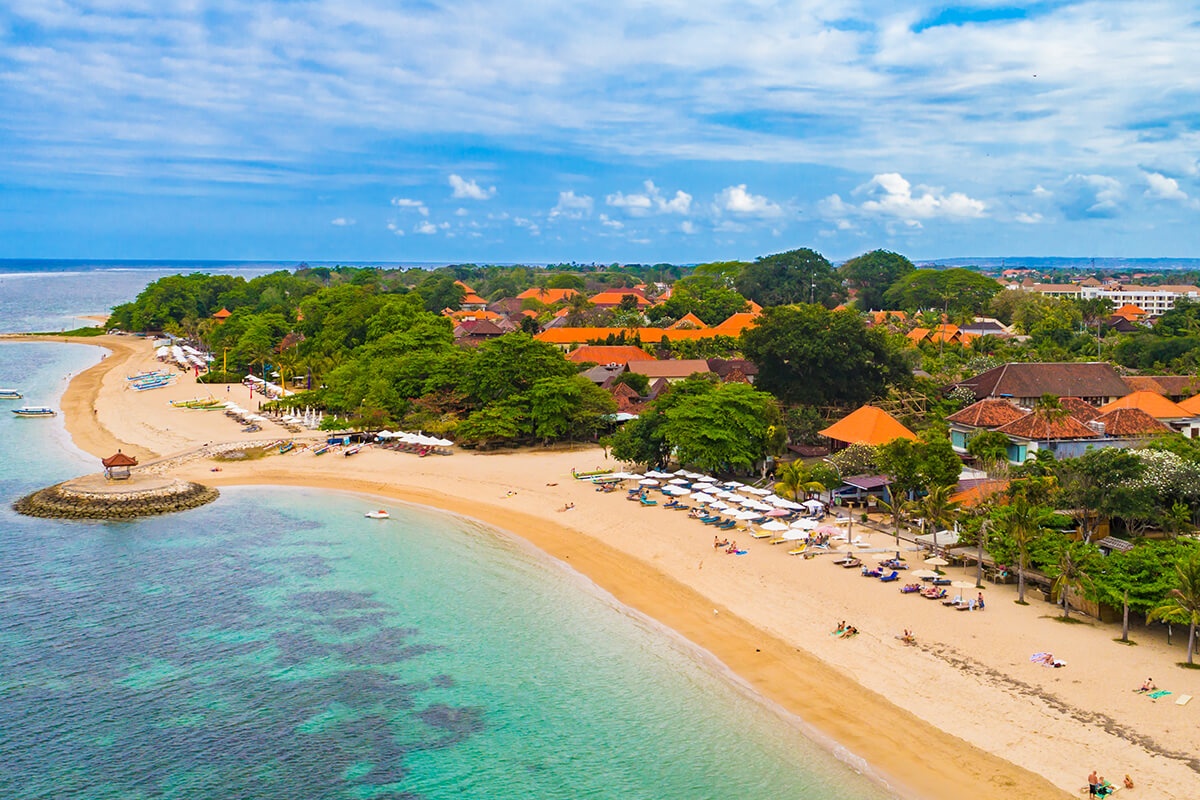 Sanur is the appropriate place to be if you are looking for something a touch quieter and more low-key than touristy Kuta. Plainly because it's quieter, though, doesn't suggest you will have to fret about where to stay-there are a slew of beachfront resorts to decide from. There are many "warungs", locally owned and operated restaurants or small shops selling food and people items you forgot like sunblock. These augment the area's charm and provides you a more cultural feel to your holiday as you absorb the village vibe.
The beach is clean and heavenly, and there is just about no surf because of the nearby breakwater. low water makes swimming a challenge, which is maybe why sailing and kitesurfing became the foremost popular things to try and do at this more serene island spot.
Take an opportunity from the warmth at the Sindhu Market in town. This small night market is understood for its scrumptious and cheap street food fare. this is often where you will find the foremost luscious and authentic martabak-an Indonesian delicacy sort of a thick pancake. It's filled with sweet or savory foods (i.e., spicy beef) and typically served with a sweet sauce. For more fun, bike or walk throughout the four-mile seaside path and visit the temples at the beach. Who knows what you might discover!!
6. Dreamland Beach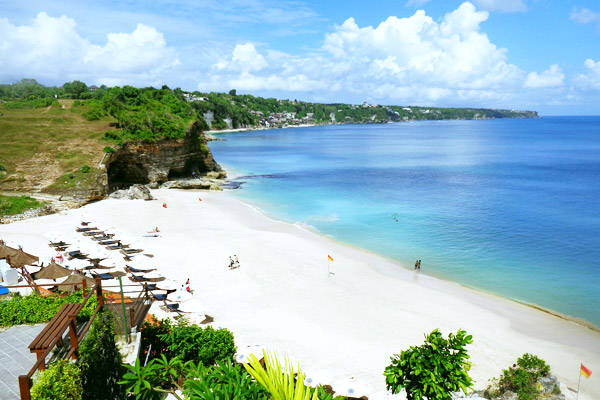 30 minutes drive south of Kuta, Dreamland beach stands up to its name. It has more large beach resorts, soft white sand, and a captivating place for surf-worthy waves. Dreamland also has the high limestone cliffs and the rugged coastline of the Bukit Peninsula. The views are just spectacular.
The surfs are large and waves more treacherous, so beware if you are traveling with the kids. Instead, take them kite flying or play them in sands. If you are one of those dreaming of floating seamlessly in the ocean, rethink the trip as water isn't calm. You will also get chair rentals to body massage from the beach hawkers. Bargain the best deal and enjoy.
7. Seminyak Beach 
Treat yourself to a day (or days) you'll always remember in Seminyak, referred to as Bali's "most stylish and upscale beach country." The tiny villages and warungs found in other areas of the island dwell in opposition to the eclectic fashion boutiques and upscale restaurants near this beach. The sugar-white sand begs to be sat upon, but the proper surf is what really attracts visitors. While it's rough enough to create swimming a challenge (especially for kids), the water at Seminyak may be a surfer's delight. For those who want to sit back and enjoy, take rented sunbed umbrellas and lounges.
Its shore is peppered with the best classes of accommodation. The Oberoi Beach Resort, Bali, for example, was one of the primary luxury hotels in Seminyak and remains an iconic (and lavish) oceanside beach resort. You've already heard about the island's awesome sunsets. Seminyak is another good spot to witness one. Local restaurants throw giant bean bags onto the sand to supply weary beachgoers with an optimal spot to eat while enjoying nature's ultimate show of wonder. Visit the beach in the morning, or early afternoon when crowds are particularly thin.
8. Padang Padang Beach 
This beautiful beach is reached by walking downstairs you discover after entering a hollowed rock. discuss exotic! Located on Bali's southern coast, Padang Padang is created even more captivating by the large rocks and limestone cliffs of the Bukit Peninsula that surround its azure waves and golden sand.
Many beachgoers are here to surf since the waves are optimal for skilled surfers. Beware: they break over shallow coral, so beginners are happier choosing a safer beach like Seminyak or Kuta for his or her first lesson. It is well known that Padang Padang's soft sand is a perfect area for families to enjoy. You can also enjoy local warung's tasty food and sweets.
Once a really secluded spot, this beach was made famous because of the spot where Julia Roberts' character finds love in Eat, Pray, Love. The result: an influx of tourists and new western-style restaurants, shops, and surf lodges geared toward the throngs of vacationers.
9. Nyang Nyang Beach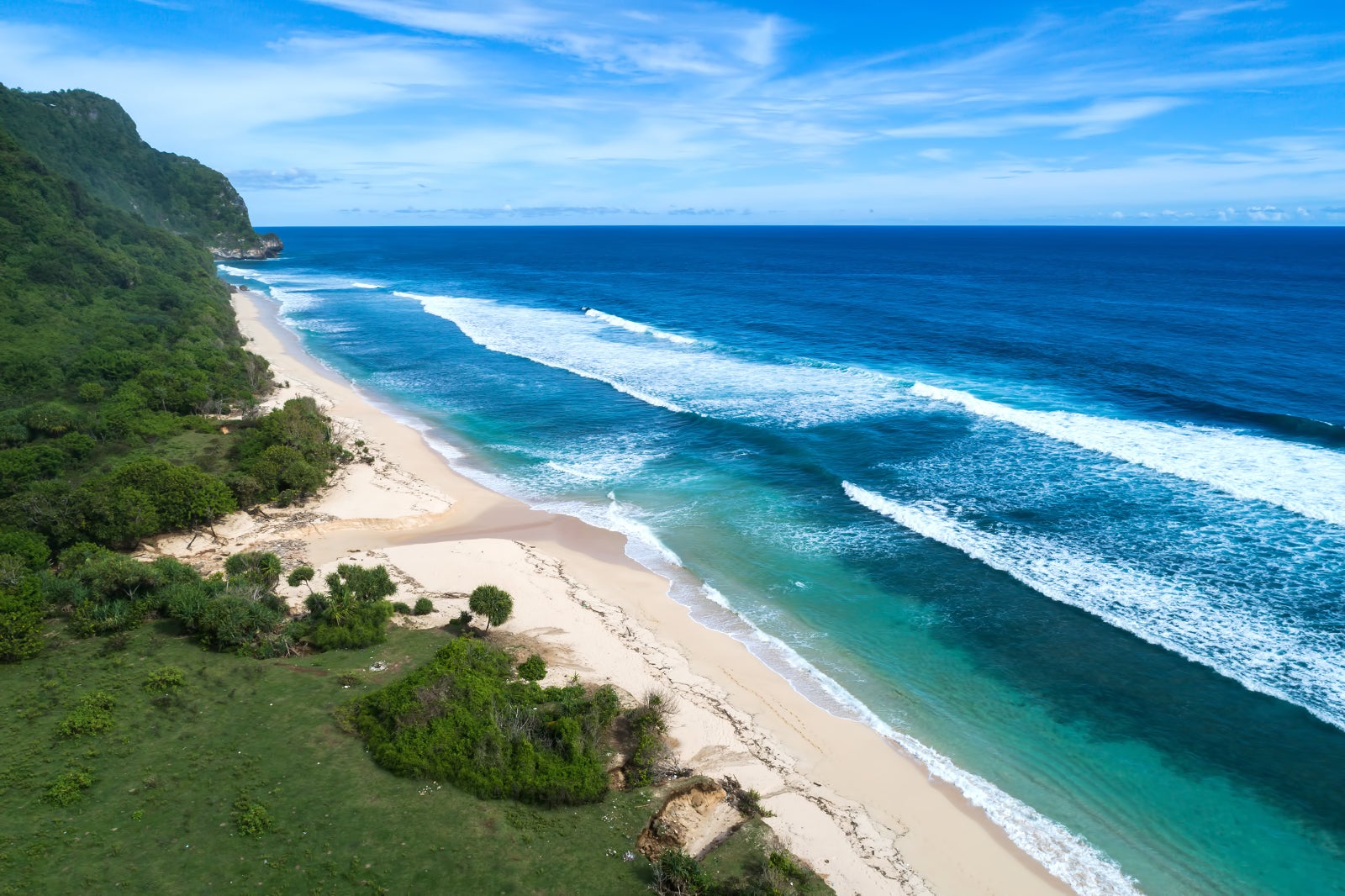 Nyang Nyang is a secluded beach that needs hefty trekking across the rough terrain. The reward at the won't disappoint you! Nyang Nyang has outstanding views above the untouched coastline and limestone cliffs. This haven is covered by lush grassland, perfect for avoiding crowds. Plus, there will not be any beach hawkers. You would require don shoes as the sand is coarse yet lovely.
Sit back, throw up your feet and let the waves calm you as they break on the reef just outside the shore. But remember, swimming is highly not recommendable as there are no lifeguards on duty. For having a perfect vacation, bring some food and water with you as the beach is a bit active. In addition, it takes around 30 minutes to reach. If this beach is on your bucket list, make sure to stay up to few hours and enjoy this perfect piece of heaven.
10. Nusa Dua Beach 
When it involves luxury, Nusa Dua has it all. trying to find an ideal honeymoon resort? Check. need a relaxing massage? There are spas aplenty. Craving a golf game? it's its own 18-hole course. This beach is basically a large peninsula of immaculate sand bordered by everything you never knew you needed. And it's all encompassed within a gated compound. In comparison to the crowded surrounding of Kuta, Nusa Dua is more peaceful, serene, and highly upscale. It is the mecca of all-inclusive beach resorts, with quite 20 big resorts on its shore.
You can walk miles along the stunning white sand coastline and goggle at the grand hotels among your baths. Take a dip within the inviting water to chill off, then cross the boardwalk to view the resorts' impressive pools, or grab a bite to crumble one among their restaurants. At the far end of the beach could be a large shopping complex, The Bali Collection, crammed with upscale stores, restaurants, and places to induce everything from a pedicure to hair braiding.
11. Balian Beach 
Balian gives the tourist a striking black volcanic sand and dazzling sand dunes. A quiet place to seek out respite, Balian is remote enough to supply a needed break from the crowds found at other more popular beaches. the enormous swells off this dramatic coastline make Balian a veritable surfer's paradise. Rent a board, join up for lessons, or merely sit back and watch because the surfers do their thing. Either way, you will be happy you probably did.
You won't find any luxury accommodations near this beach, but those on a decent budget will have plenty of affordable options to settle on from. Grab a bite at a close-by warung and produce it right down to enjoy on the sand. Try a yoga session. If you're lucky, Nicky Yoga is going to be holding classes when you're there. they are not to be missed!
12. Bingin Beach 
Another exquisite beach on the Buckit Peninsula, Bingin is little but mighty. Being a surf haven, the isolated beach is free from bustling crowds and loud music. The reason? It's well hidden by the dramatic white limestone cliffs and is not easy to induce. The clifftop offers an unparalleled bird's eye view. Once you've safely climbed over the uneven rocks to achieve the impeccable beach, you'll know your journey was worthwhile. The place is postcard-worthy beauty.
Whether you are looking to remain at any low surfing camp or a luxury villa, there are lots of places to remain near this picturesque spot. and you will be ready to grab a bite at an area warung. Time your visit around low water, so you will have an excellent more extensive area of land to explore. Also, this is often primarily a surfing and sunbathing spot because of its roughness, so it isn't a good option if you are looking for a secure place for youths to swim.
13. Green Bowl Beach 
It's not easy to induce right down to Green Bowl beach (aptly named for its shape and green water), but that's not necessarily a foul thing. you'll need to climb quite 300 steps to induce to the underside of the 75-meter cliff towering above the unspoiled sand. The upside: you will not need to elbow your way through crowds to seek out a spot for your towel. This secluded nirvana boasts two limestone caves, inside which are small rock shrines and far needed shelter from the new sun.
Speaking of hot sun, you will be ready to buy a chilly drink or coconut from a warung at the highest of the steps. If you cannot fathom climbing copy for a snack, confirm to bring it with you on the way down. Go early within the morning to form the foremost of your day. If tides come, most of the caves and beaches get swamped. You wouldn't be able to feed the macaques, along the line of the stairway. They'll leave you alone if you ignore them.